Design Services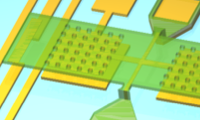 The design and modeling of MEMS, micro and nano devices is more challenging than in other size domains due to the fact that there are typically multiple interacting fields (e.g., mechanical, thermal, electrical, fluidic, etc.) in the device. Additionally, mask layout for these devices may require unusual geometries. Our engineers have the qualifications and experience with design tools and mask making processes needed for the unique demands of your MEMS, micro, or nano device.
The MNX offers a full range of exceptional design services including:
Mask layout design
Analytical design
Finite-Element Methods (FEM) and Boundary-Element Methods (BEM) Modeling
SUPREM Process Simulation
Digital and Analog Circuit Design
The MNX uses the most advanced design tools and techniques. Our expert engineers can create a design for you or optimize your design to meet your device requirements or specifications. Our design knowledge coupled with our expertise in process development and fabrication translates into an effective strategy for getting your device successfully implemented on budget and on time.
If you would like to talk to the MNX about assisting your organization in device or system design, please contact us by email at engineering@mems-exchange.org or call us at 703-262-5368 and ask to talk to an engineer.