Process Development Services
The implementation of MEMS, micro, and nano devices often requires the development of a unique and custom process. It is now well known that the methods used for the development and fabrication of MEMS, micro, and nano processes differ significantly from those used for integrated circuits.
The development of a custom process for a MEMS, micro or nano device can be a complex and expensive task, but with our help, this task can be made much easier and far less expensive. The MEMS and Nanotechnology Exchange employs a world-class team of experienced and highly talented, Ph.D-level process engineers, including widely-known specialists in a variety of MEMS, micro, and nanotechnology areas, including: radio frequency (RF), optical, acoustics, microfluidics, medical and life sciences, who can assist you in developing a process sequence or technology for a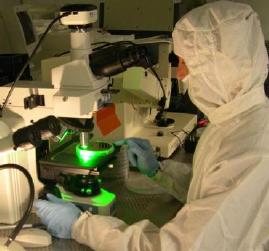 particular device or purpose. This expertise combined with our time-tested development methods, specifically the MNX design for manufacturability methods, allows devices to be developed to meet your technical requirements on budget and on time.
If you would like to talk to the MNX about assisting your organization with the development of a process technology or device, please contact us by email at engineering@mems-exchange.org or call us at 703-262-5368 and ask to talk to an engineer.