Material Property Measurement Services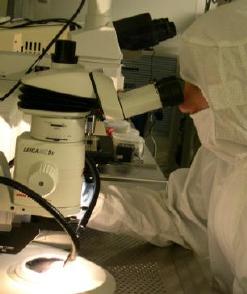 Thin-film material properties, such as modulus, residual stress, coefficient of thermal expansion, conductivity, etc., are critically important in MEMS design and development. When these properties are not known, design and modeling is extremely difficult or impossible. Frequently, material properties of thin-films are extremely sensitive to the exact processing steps and properties used in a process sequence. Since many processes are developed in tandem with the implementation, there is little or no prior knowledge of these properties.
Our approach is to take specially designed test structures from our extensive portfolio of material property test structures and place them on the wafers during process development. We can then measure the various material properties and the effect of the processing steps and properties. This information is then fed back into the design model of the device or system so as to optimize the accuracy of the model. The MNX offers complete thin-film material property measurement and characterization services.
If you would like to talk to the MNX about your material property measurement needs, please contact us by email at engineering@mems-exchange.org or call us at 703-262-5368 and ask to talk to an engineer.