Quality Control Services
Quality control and well documented process protocols are of paramount importance when developing a customized process sequence, transferring a process from one foundry to another, ramping a process from prototyping to production, developing a second source foundry, or optimizing an existing production process.
The MNX can develop a quality-control protocol for your process; diagnose problems in your device or process; evaluate the quality of a third-party fabricator, and much more. The key elements of our ability to provide the best quality control services are our experienced staff and our extensive state-of-the-art quality control and metrology facility.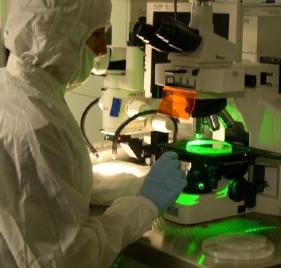 Our current equipment portfolio includes:
a FEI dual-column focused ion beam (FIB);
a Hitachi scanning electron microscope (SEM);
an atomic force microscope (AFM);
a Wyko NT3300 non-contact profilometer;
a KLA/Tencor Flexus thin-film stress measurement tool with temperature control;
a Dektak 200SL stylus profilometer;
a KLA/Tencor sheet resistance wafer prober;
various Leica and Nikon microscopes for optical imaging using bright field, dark field and DIC;
fluorescence microscope to detect residual photoresist; etc.
If you would like to talk to the MNX about your quality control needs, please contact us by email at engineering@mems-exchange.org or call us at 703-262-5368 and ask to talk to an engineer.